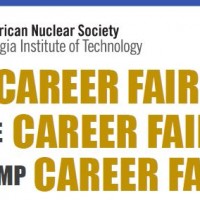 Feb 19, 2016
The Georgia Tech American Nuclear Society student section is hosting their very first NRE career fair! This career fair is tailored to bring in companies looking for NRE students in particular as well as MP and ME students. We hope to bring in a large audience for the event so that we will be able to have a bigger one at a better time for internships in the fall 2016.
The career fair will take place in Boggs 3-47 on Monday, February 29th from 12:00-3:30 PM.
Please see the attached flyer for additional details.
NRE ME MP Career Fair Hosted by GT ANS Flyer
Don't forget your resumes!