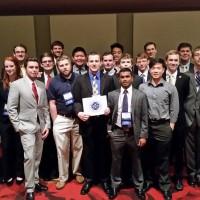 Feb 5, 2016
Registration and flight booking can begin now!
So, here are a few things regarding that.
Registration
1. Make an account with www.ans.org
2. Register to become a national ANS member ($30)
3. Register for the conference via link fromhttp://www.ansstudentconference2016.com/
($35)
–SAVE your confirmation numbers and other proof of purchase documents. Print page/save as a pdf.
IF YOU WANT TO SUBMIT A SUMMARY: That deadline is February 8th, this Monday!
There are two separate $500 awards people can win for presentations.
Flights
1. Unless you want to schedule a late tour/workshop and get up super early Thursday to fly over, schedule your flight for Wednesday, 3/30 > Sunday, 4/3
2. SAVE your purchase confirmation info. You will need all of th4se confirmations to get reimbursed.
Hotels
Coordinate your roommates and have someone reserve the room.
The payment will be split at checkout among your group, so plan for that.
—————————————————–
Things to note about conference for those unfamiliar with the process:
Missing Classes:
1. We will be submitting absence request forms on your behalf as a large group and contact you for the information needed.
2. If you are going to miss a quiz/test during your flight times, contact your TA/professor about rescheduling
3. If you are going to miss a quiz/test during the conference, it is possible to get it proctored there. Again, contact your professor/TA about this ASAP.
Travel Reimbursements:
1. You have to pay GT ANS dues for this semester
2. There is a form we will fill out with your information for submission to SGA
3. We will need you to send us proof of purchase for your flight, hotel, and conference registration.
4. Reimbursements are received in the fall semester, and they will be mailed to those not at GT.