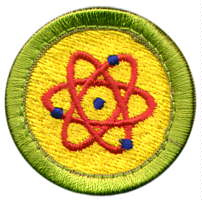 Mar 1, 2015
Follow the link below to access the form for sign up:
Hello scouts and parents. This is the form to sign up for the Spring 2015 Nuclear Science Merit Badge Day hosted by Georgia Tech's student chapter of the American Nuclear Society. During this event, scouts will participate in a series of talks and activities which are designed to fulfill all of the requirements for the Nuclear Science Merit Badge. In order to make sure that scouts have an adequate background knowledge in chemistry, we will only be accepting scouts who are currently in 8th grade or high school.
This Nuclear Science Merit Badge Day will take place on Saturday, March 28 from 9:30 AM to 3:00 PM. It will be hosted on Georgia Tech campus in the Boggs Chemistry building. A pizza lunch will be provided to the scouts. A $10 registration fee will be charged to support this event.
To prepare scouts for this event and to meet all of the badge requirements, a mandatory homework assignment must be completed to ensure proper preparation for the event. Each scout must email in a scanned PDF file of their completed homework assignment by Monday, March 23rd. This assignment is a necessary requirement for the merit badge. In this same email, a photo release form must also be scanned and submitted.We will be taking photos of the scouts and volunteers solely for the interests of promoting our NSMB Day and to show our commitment to STEM outreach in our reports to the national American Nuclear Society..
We will accept the first 40 scouts to fill out this form. More details will be sent out through email to registrants once all spots have been filled. During this past fall, our spots were filled within the first 48 hours of opening the form. Please keep this in mind. We are heavily limited by space and by the escort requirements for our secure radiological facilities.
We are looking forward to seeing you all.
Ben Musall
Outreach Chair — outreach@gtans.org
Martin Zavala
Merit Badge Counselor — martinzavala.fr@gmail.com
Georgia Tech American Nuclear Society